Our High-Quality Grout Cleaning Service, Enhanced the Appearance of These Rooms in Boston, MA
September 25, 2017
Like all home furniture, hard surfaces are exposed to daily wear and tear. Regardless of the care they receive, damage is unavoidable and there will come a time when restoration is needed. Most likely the two rooms that will need restoration more frequently are the kitchen and bathroom. This client noticed the dingy tiles on her kitchen counter and her master shower. She could no longer delay remedial action, so she started her search for a company that could help her in her mission to eradicate mold and get clean surfaces. She mentioned to her neighbor that she intended to get a restoration service, and he said that he had recently hired the best company for a
grout cleaning in Boston
; they had worked on his kitchen floor and counter. He assured that he had never been so happy with a company performing a service in his home, and that is how our client was convinced to work with us. She went on our website and requested a consultation right away.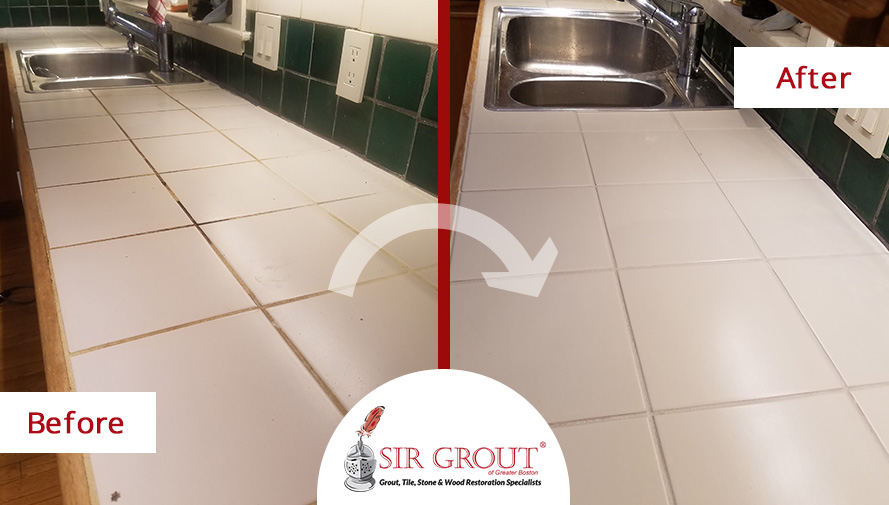 On the day of the consultation, our kind client welcomed us into her home in Cambridge. She promptly started telling us about the problems she had been facing. In her kitchen, the counter had dirty grout and dingy tiles. She took diligent care of the counter, but the damage over time could not be completely remedied with a simple cleaning routine. She felt that no matter what she did, the surface looked lifeless and stained. Surprisingly, as she told us about her cleaning method, we discovered that on top of the normal deterioration process, her DIY recipe for disinfecting the area with vinegar had also been responsible for breaking down the grout progressively. This counter was grouted with a cementitious material (most grout is composed of sand and cement). The alkalinity of cement reacts with the acidity of vinegar—in other words, vinegar eats away at the cement. This abrasiveness is recommended in some cases, for example, when professionals want to re-grout so they strip away the superficial grout with vinegar. However, this is damaging in the long run.
Unfortunately, for this homeowner and many others, their attempts at maintaining their tiles and grout clean, end up damaging them. Our crew explained that a grout cleaning and sealing service would put an end to the problems, and our client was relieved that the damage she had unknowingly done was reversible. Next, we checked the bathroom. The shower had dirty grout and the caulk on the joints was discolored, and the grime was not subsiding with common cleaners. Common commercial cleaners are often too harsh on grout, and this was probably the reason why it had turned to a dirty gray color. Also, mold and mildew can form on the tiles very easily—all it takes is moisture. For this area, we considered that a grout cleaning and sealing service were also needed.
After the in-depth assessment of both areas, we began with our services. In the kitchen, we started by applying a tile and grout cleaner and letting it sit for a few minutes. This facilitated the removal of deep-seated grime. After that, we used a high-speed scrubber to deep clean. We paid special attention to the grout lines to get them perfectly cleaned. This process was complete when we applied our flagship sealant, ColorSeal. This is a waterproof, stainproof coating that will protect your grout for a long time, plus, making it easy to clean. It offers resistance for areas that are exposed to high wear and tear, such as the kitchen. Once the kitchen counter was ready, we moved on to the bathroom, where we soaked the tiles and grout in a neutral cleaner and scrubbed the grime off with our machine. The grout had to be renewed with ColorSeal, which works very well against moisture; therefore, helps to keep mold and mildew at bay because of its epoxy compounds. Additionally, this product can be applied in practically any color the client chooses, in this case, in bright white, to make the bathroom look extra clean and fresh.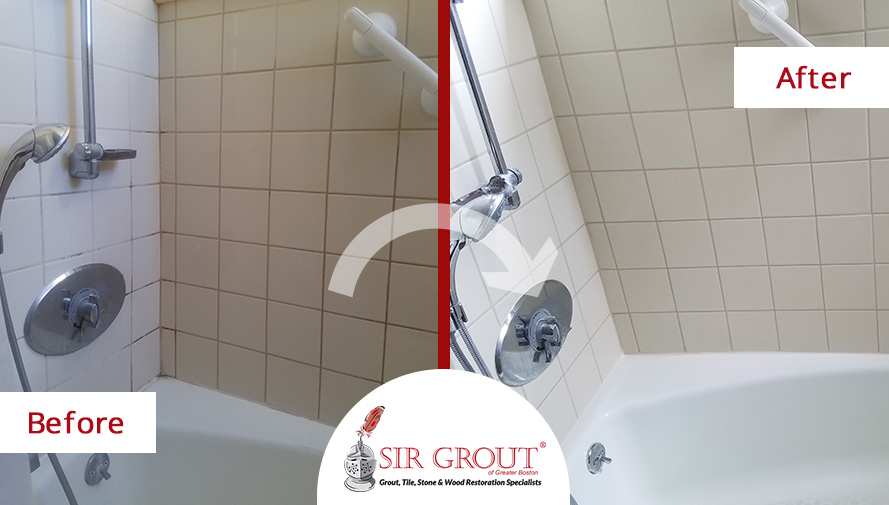 After our work, we made sure we offered our client some care tips. They must make sure they use alkaline or neutral cleaners, which won't break down grout. Oil or wax based cleaners are not a clever idea since they leave residue that in time turns into a sticky grime-attracting film—even appropriate cleaners can leave this film if they are not rinsed well. As for the bathroom tiles, we recommended our clients to go with a high-quality neutral cleaner and to keep the bathroom ventilated, especially after showers to avoid mold.
This kitchen counter and shower are as good as new, and our crew was proud to have done another excellent job. Our client was thrilled to see the results of our procedures. She was so happy with the work our crew did that she wrote a kind review where she praised us for our commitment to quality and helpfulness.
Louis L - Cambridge, MA
May 18, 2017
Chris, I was indeed very happy with your men and the work they did. They went above and beyond to make things come out well, they explained it all, and they were good company on a very hot day. It's a pleasure to see the difference between what a specialist can do, and what a "jack of all trades" had done. We'll go right to the specialist next time. Thanks to all of you.
via:

If you need specialists to rescue the hard surfaces in your home from wear and tear, you are in the right place! Sir Grout of Greater Boston is the best choice for restoration in Boston. Get a free consultation by filling out the form that you'll find on this website, or give us a call at
(781) 899-0388
. We'll be delighted to help you! or subscribe to our
newsletter
to get valuable tips about our services and caring for your hard surfaces.
If you found this article helpful then let us know in the comments section below. Likewise, feel free to share it using the share options below. Want us to cover another topic of your interest pertaining to Hard Surface Restoration? If so, then like us and follow us on social media, and post to any of our social media profiles the topic you'd like us to discuss:
Facebook Sir Grout of Greater Boston
,
Instagram @sirgroutboston
, and
Twitter @SirGrout
.