Welcome to the Slate category for the Sir Grout of Greater Boston Blog. Here you'll find blog posts related to slate surfaces that we've restored. See the amazing transformations with the included before and after pictures. Feel free to share and leave your comments.
Published August 18, 2016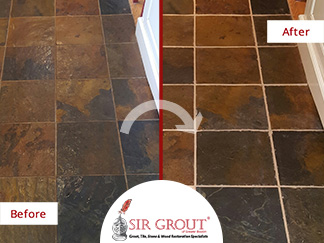 The Colors of This Slate Floor in Sudbury, MA Came Back to Life After a Stone Sealing Service
When it comes to stone surfaces, there are different types to choose from. Nevertheless, time and use erode these surfaces badly, regardless of the type of stone you choose. This homeowner saw how the ravages of time took away the beauty of his slate floor.
READ MORE
Published July 07, 2016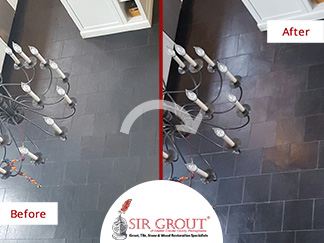 Dull Slate Floor in Lincoln, MA Gets Its Shine Restored After a Stone Sealing Job
Slate is a beautiful, natural stone favored by architects, builders, and homeowners for its versatility and ability to complement any room or space. This stone comes in many different colors, but one of the most beautiful and unique varieties is black slate.
READ MORE