Welcome to the travertine category for the Sir Grout of Greater Boston Blog. Here you'll find blog posts related to travertine surfaces that we've restored. See the amazing transformations with the included before and after pictures. Feel free to share and leave your comments.
Published May 31, 2017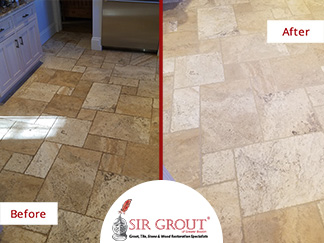 See how a Grout Cleaning Service Worked Wonders Restoring this Beautiful Travertine Floor in Newton, MA
The constant and excessive foot traffic can wear down even the most durable of stone floors. Such was the case of this client's beautiful travertine kitchen floor. She had a love for rustic home décor and she had always dreamt of having a stone floor.
READ MORE