No More Problems with This Tub-shower Thanks to Our Caulking Services in Walpole, MA
March 28, 2018
Most people don't find cleaning very fun, and for some, it can be problematic. This was the case of an elderly woman from Walpole, MA, who just didn't have the necessary patience anymore to keep up with the high maintenance her troublesome bathroom demanded. Fortunately, she found a solution thanks to our
caulking services in Walpole, MA
.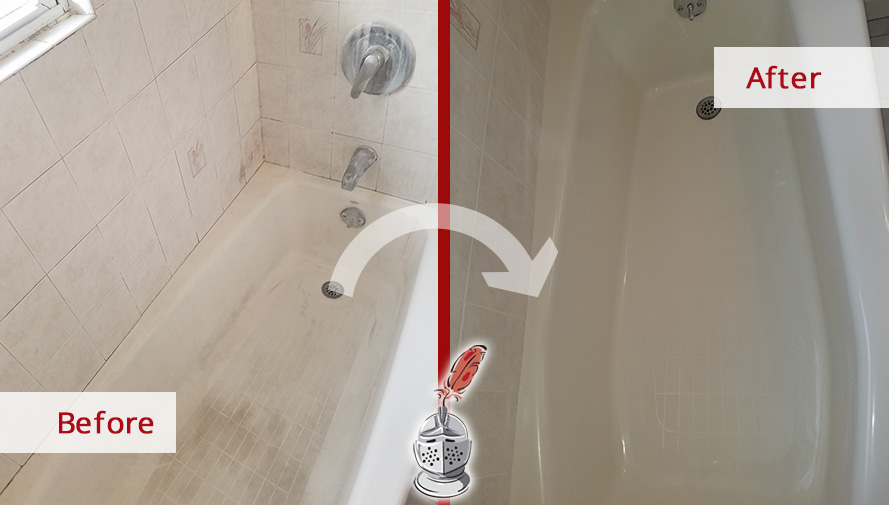 You see, cleaning this bathroom was no easy task. For a while now, this elderly lady had to spend several hours a week just to keep it barely clean. As time went by, it took a little more scrubbing and a bit more cleaning solution, and unfortunately, she just couldn't keep up.
After a while, she made the decision to give up on her bathroom all together. This is when dirt began to accumulate all over the place and stains started to appear. The grout and caulk were starting to crack and fall off.
Luckily, a close friend found out about the whole situation and suggested she call us. He gave her our number, as he had experienced a similar problem with one of his bathrooms. Our crew not only fixed it, but managed to make it a lot easier to clean. Open to this option, she gave us a call and booked the next possible date for a free in-home evaluation.
The In-Home Evaluation
Right from the get-go, our crew spotted the first of the series of problems that plagued this lady's bathroom. The floor looked dirty, as grime had been slowly accumulating between the tiles. Also, years of inadequate cleaning had managed to leave a film of scum all over the grout and tile's surface.
But, these were lesser matters when compared to the condition in which the tub-shower was in. The tub was dirty and full of soap scum stains, there were hard water stains on the shower head and faucets, and worst of all, the grout and caulk on the shower walls were cracked, dirty and nearly non-existent in certain places. If not taken care of, the chunks of missing grout and caulk would allow water to seep behind the tub-shower, eventually leading to far worse problems.
To restore this bathroom, our experts recommended doing a deep clean on all afflicted surfaces to remove the dirt and hard water stains. Also, to remove and replace the remaining grout and caulk with epoxy grout, which is better suited for areas such as the bathroom for its durability and topping it off with a color seal process for extra protection. Finally, they suggested honing the tub to get rid of stains and restore its original sheen.
Pleased with our assessment, the woman proceeded to book with us a date and time for the procedure to take place, as she knew it would end up saving her money and effort in the long run.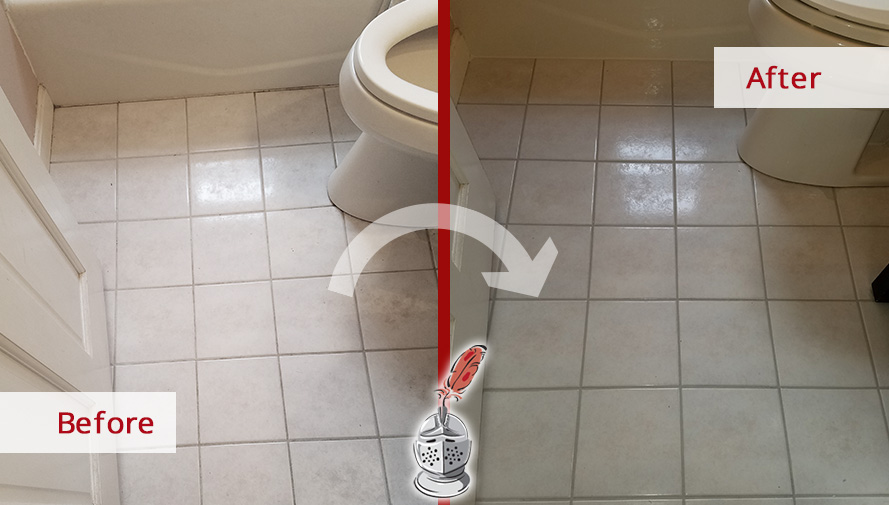 The Restoration Procedure
As promised, our team of specialists arrived on time and determined to get the job done. They entered the woman's bathroom and began by clearing any object and protect all adjacent areas that would suffer damage from the procedure.
Once everything was prepped, they started cleaning the bathroom floor by using an appropriate cleaner for the surface. After letting it sit for a while, all the grime broke up and was ready to be removed with the help of a high-speed scrubber. The same procedure was performed on the tub-shower. This took care of all the dirt and stains on the grout lines and bathroom surfaces.
After everything was clean and dry, our crew proceeded to remove the remaining grout and caulk from the tub-shower and replace it with epoxy grout. Compared with ordinary latex- and silicone- based grout, it is a lot less likely to crack or peel as it is more like plastic. It's also less porous, making it water, stain, dirt and mold resistant. Plus, we applied ColorSeal to the grout to give it an extra layer of protection.
Finally, the tub was honed by applying grit pads to remove stains. The level of grit was gradually increased until the whole tub reached a nice and even sheen.
The Outcome
After a long multistage process, the bathroom was ready for the elderly lady to see. She was absolutely amazed and pleased with the results. Her bathroom once again had the same appearance it did back then when she so arduously spent hours cleaning.
Before leaving, our experts assured her that the color sealing would make all surfaces a lot easier to clean, but nevertheless, gave her a few maintenance instructions:
Don't use soap-based cleaners on tile and stone surfaces, because they tend to leave sticky residue that, when they come in contact with dirt, becomes a stain. Use pH-neutral cleaners instead, as they not only clean, but can be safely used on any type of surface.
Dust the tub or any other stone surface regularly to avoid scratches.
Don't over-scrub or apply excessive friction while cleaning the tub-shower surfaces, as it might damage the caulk and grout.
If you too are tired of spending valuable time scrubbing your bathrooms and need professional help, just pick up the phone and give us a call at
(781) 899-0388
. You can also fill out the "Request a Quote" form found on this page to set a date for a free evaluation.
If you found this article helpful then let us know in the comments section below. Likewise, feel free to share it using the share options below. Want us to cover another topic of your interest pertaining to Hard Surface Restoration? If so, then like us and follow us on social media, and post to any of our social media profiles the topic you'd like us to discuss:
Facebook Sir Grout of Greater Boston
,
Instagram @sirgroutboston
, and
Twitter @SirGrout
.