Stone Polishing Makes Chestnut Hill Customer's Marble Counters Shine Again
November 20, 2015
When it comes to evoking grandeur, luxury, and class in a home, office building, or hotel, there are few materials better than marble. Our Boston customer was a proud owner of a home that featured beautiful gray and white marble counters on her bathroom sinks. She loved that feature -- it was one of the main reasons she decided to buy the Boston home a few years back. Unfortunately, a job assignment took her abroad, and she was away from home for a few years. Not wanting to leave the home unattended, she arranged for her property to be rented out to a tenant.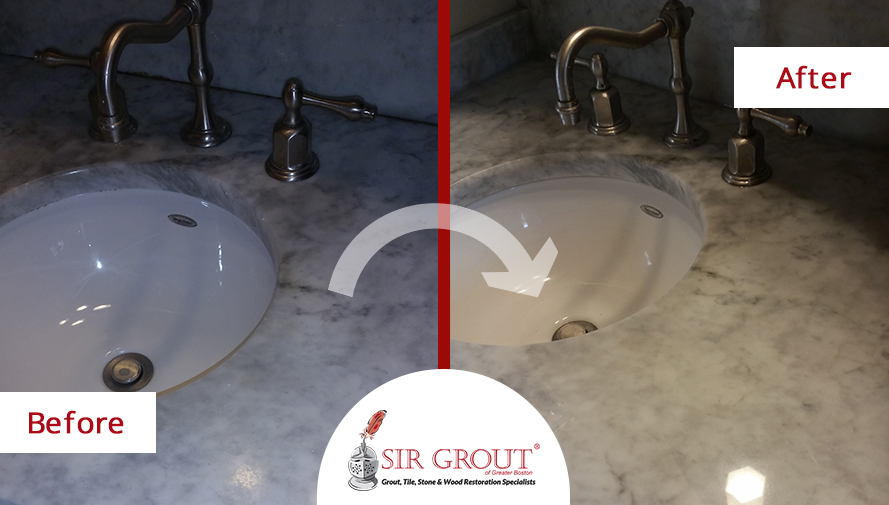 Upon coming back to Boston, our customer was excited to start living in her dream home again. She had hoped that the tenant took good care of her home, and for the most part, that was indeed the case. Unfortunately, much to our customer's disappointment, the tenant did not take good care of the marble counters! Upon settling in and inspecting the post-tenant condition of the home, she noticed that the marble was not nearly as glossy and shiny as it was when she left. The marble seemed dull and opaque, as if her former tenant put a film over the marble tiles. At first, our customer thought that a thorough cleaning would do the job, but after several tries, nothing seemed to be restoring the shine that was just a fading memory now. Not knowing what else to do, she searched for
Chestnut Hill stone polishing
services, and stumbled upon Sir Grout of Greater Boston. After researching the company's experience in polishing and honing marble, as well as numerous positive client reviews, she called Sir Grout of Greater Boston to find out if a stone polishing service could undo the damage her tenant did to her marble counters.
She did not know this at the time, but moisture, dirt, soap scum, harsh chemicals and cleaning products can all damage delicate marble. Although it appears smooth on the surface, stone like marble and travertine is actually very porous. Dirt, grime, and moisture can seep into the microscopic pores of the stone and remain there -- no cleaning products or scrubbing can get out that which has seeped into the tiny pores of the stone. Additionally, scrubbing and harsh cleaning chemicals can make the stone chip, leading to a rough, uneven surface. To an untrained eye, the damaged surface of marble appears as dull, dirty, and discolored. To get her marble floor back to its original glossy shine, our customer needed professional, experienced help -- Sir Grout of Greater Boston has years of experience and the proper tools to restore marble to its former shine!
Upon arriving at the customer's residence, Sir Grout's trained, professional stone polishing team assessed the damage, documented the pre-treatment state of the marble, and got to work. To polish and restore the marble, the team used a proprietary process involving marble-friendly chemicals and polishing and buffing tools to grind down the damaged layer of marble, and expose the undamaged layer underneath. After treating, honing, and polishing the marble, the sink counters were back to looking their absolute best!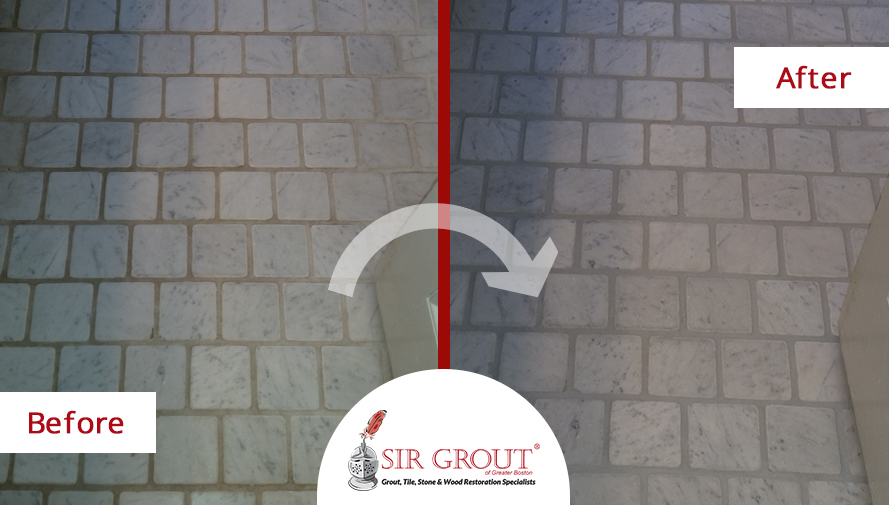 Our customer was thrilled with the result. Her favorite marble sink counters were back to their luxurious, shiny appearance -- the damage done by the tenant was undone! Sir Grout of Greater Boston had another satisfied customer!
For a professional stone polishing services with years of experience and know-how for a job of any size and scope, turn to the Boston area stone polishing and honing experts -- Sir Grout of Greater Boston. Give us a call at
(781) 899-0388
to schedule your free evaluation today!