Shower Recaulking Service Prevented Potential Water Damage for This Boston, Massachusetts Homeowner
March 22, 2016
The smell of mold. Peeling caulk. Old, crumbling grout. These were just a few signs that a Boston homeowner's bathroom desperately needed a facelift. This homeowner was a utilitarian man – he took pleasure in the simplicity and functionality of his old durable shower. When his shower stopped looking durable, and started looking dirty as you can see in the "before" image below, he decided to take matters into his own hands.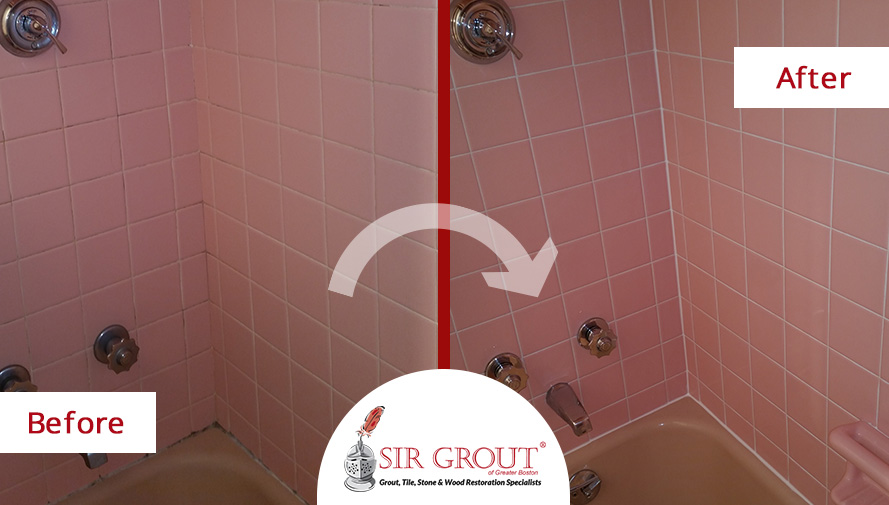 He looked online to discover the threat: with deteriorating caulk, mold, and potential grout problems, he discovered that water damage was the big threat to his home – and a very expensive one at that. He did not want to let the problem grow to the point that water was leaking into his walls. A few clicks on the old search engine was all it took for him to find a company that provided local
Boston caulking services
. Five-star reviews and a free evaluation led him to believe that it was worth taking a chance and getting a quote from Sir Grout of Greater Boston. He made an appointment and took another look at the damage, hoping for the best.
When the hard surface experts arrived at the home, they quickly assessed the shower. They'd seen many like it before – the Boston area was full of these older showers that just needed a little upkeep! Apparently, all that was needed was a grout sealing and a caulking repair – and they would be in and out in as little as a day! The homeowner breathed a sigh of relief and gave the team the green light.
First, the shower renewal team cleaned the entire shower. After a thorough cleaning using vapor and a proprietary brush system, they replaced the nasty, moldy, peeling caulk with fresh caulk all around the bathtub. Deteriorating caulk is a huge leak-point in many bathrooms – it indicates that the seal between the tub and the walls is no longer good, and water damage on the walls and floor often happens as a result of leaving bad caulk in a bathroom. Fortunately for this homeowner, he caught it early enough that no water damage occurred.
The grout was the next problem area: while the cleaning was successful, some stains from mold cannot be removed. Grout is porous, and when dirt and soap scum are allowed to build up, mold and mildew grows. The mold and mildew can be removed, but the dark discoloration is left behind, just like cranberry juice on white linens. Unless it's cleaned off immediately and thoroughly, that color is left for life! Fortunately, ColorSeal exists for just that reason. ColorSeal is a unique sealer that not only fills porous grout, protecting it from exposure to damaging elements in a humid shower, but also adds a tint to the grout lines. ColorSeal covers stains and is stain-resistant, mold-resistant, mildew-resistant, and water-resistant.
The homeowner wanted an extremely clean look in his functional shower, so after viewing a few photos of ColorSeal on similar showers, he decided that it was the best way to go to create an extremely clean look. The best part: his cleanup would be much easier as there would be no pores for anything to get irreversibly trapped into.
Once the job was completed, the shower was even better than he remembered. Pure white caulk, clean, pristine grout lines, and no moldy smell to haunt his whole house! He was very happy with the results.
The team advised him on cleaning techniques for his renewed shower – and he made a few notes:
Always use a pH-neutral cleaner. Acidic and alkaline cleaners will damage your surfaces!
Use liquid soaps, not bar soaps. They wash down the drain more easily than bar soaps.
Does your shower look dirty and seem impossible to clean? You may be at-risk for water damage. Call the professionals at
(781) 899-0388
to set up a quick, free evaluation!