A Caulking Service in Melrose, Massachusetts Saved This Leaking Shower from a Disaster
June 10, 2016
One of the problems with shower tiles is that they are particularly susceptible to humidity, which can cause mold and mildew to grow into the grout and caulk later on. This will not only make your tiles look dirty, but it could also cause serious health problems, not to mention the costly repairs of cracked joints and water damage. The caulk around your bathroom protects the walls behind it and the subfloor beneath. When the wall joints are cracked, water seeps through. If not taken care of right away, it can deteriorate everything it comes into contact with.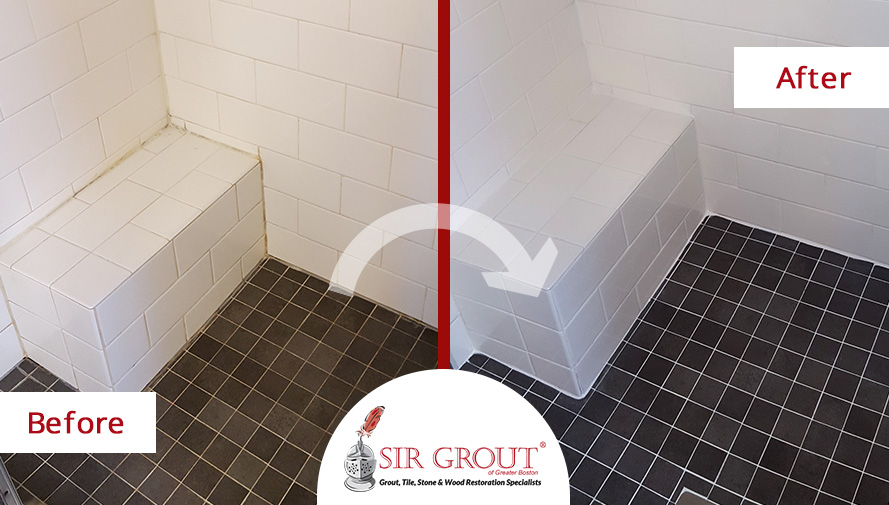 That was this homeowner's fear. Her bathroom was full of mold and mildew – giving it an old and musty smell – and the joints were continuously cracking. She wanted to solve the problem once and for all before it could take control of her wallet. She remembered that a friend had dealt with a similar problem, and after she explained to him the condition of her bathroom, he recommended her to look for a professional
caulking service in Melrose, Massachusetts
. Following her friend's recommendation, she searched the web and found Sir Grout of Greater Boston. She saw so many good things on the website that she decided to give us a call and make an appointment.
When Sir Grout's professionals assessed the shower, they saw that mold and mildew were forming between the bathroom tiles. They also found that water was penetrating the walls and tile, damaging the caulking and making the joints continuously fall apart. Thankfully, the problem was not too severe, but they knew they had to act fast to avoid costly consequences.
First, Sir Grout's caulking team cleaned the entire shower using a vapor steam cleaning and a scrubbing system. The second problem they had to attack was the moldy and cracked caulk, as well as the floor tiles and joints that were continuously falling apart. Excess moisture after a shower often gets trapped in the caulk, causing the substrate to expand and make an opening in the grout lines. When you see cracks in your caulk, it is a good indication that water has been making its way behind the shower wall and that mold is growing behind the tiles. In severe cases, only a total demolition and replacement can solve the problem.
The shower's joints were sealed with StainMaster Epoxy Grout in white to match the bathroom tiles. StainMaster is a pre-sealed epoxy grout that is more durable and crack-resistant than regular grout. It's also resistant to stains, mold, mildew, and water.
The next step was to apply ColorSeal to the grout lines. ColorSeal is a unique sealer that fills porous grout, protecting it from exposure to damaging elements in a humid shower. It also adds a tint to the grout lines, covers stains, and is resistant to mold, mildew, and water.
The team invited the homeowner to inspect the results. She was more than satisfied. The moldy smell was gone, and her shower went from filthy to new and sophisticated. She couldn't thank the team enough for saving her bathroom, so she decided to recommend Sir Grout's professional and efficient caulking services to her family and friends. Before leaving, Sir Grout's team gave her some recommendations to keep her bathroom like new. Always use a pH-neutral cleaner and use liquid soaps instead of bar soaps, because they wash down the drain more easily.
Don't wait until the caulk around your shower starts to dry or crack. It could get out of control and cost an arm and a leg to fix! Call Sir Grout today at Tag.Site.Telephone for a quick and free evaluation! Also, don't forget to connect with us through our social media accounts
Facebook at Sir Grout of Greater Boston
,
Twitter @SGGreaterBoston
and
Instagram @SirGrout
.