This Marble Counter Top Got Its Luster Back after our Stone Honing and Polishing Services in Newton Center, MA
August 04, 2017
This marble vanity had once seen better days. It completely lost its shiny look and the owner had resorted to using all the store-bought products she came across, but saw no results. After hundreds of dollars spent, she decided to seek the help of professional stone restorers. Her home was located in Newton Center so she tried doing a local search for
Newton Center stone honing
professionals. She was surprised when she immediately found a company that could do the work she wanted. She learned that Sir Grout of Greater Boston carried out stone honing and polishing jobs in several locations in Massachusetts and decided to contact us using the online form to get a free in-home evaluation and quote.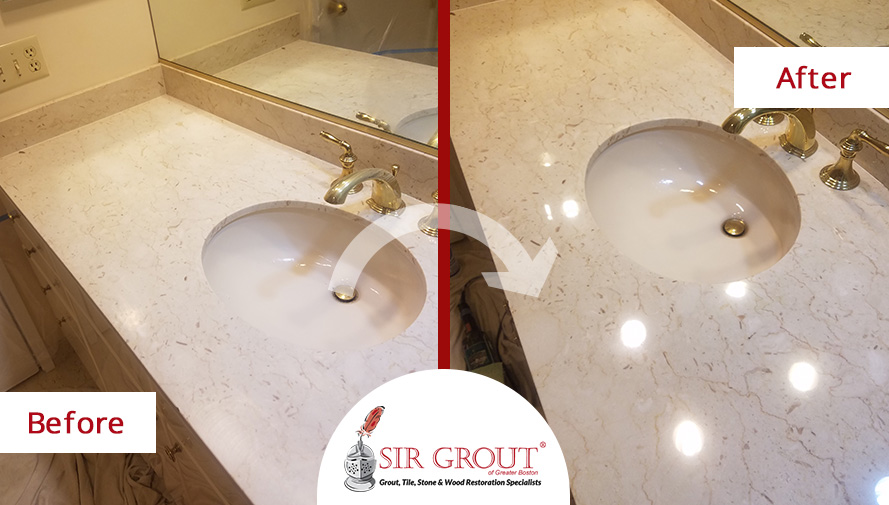 When our team of stone honing specialists arrived to check out what they could do to help the client, they noticed that the surface in question was a beautiful
crema marfil
marble vanity. The once beautiful stone surface now looked lackluster, it had lost all its shine. However, in spite of the dull appearance, it seemed rather intact as it did not have any major etch marks or stains. It had simply lost its polished finish.
Marble is a beautiful natural stone that is used for both decorative and structural purposes. It has the ability to transform an otherwise ordinary space into a luxurious area. However, to maintain that luxurious feel, it is necessary to take proper care and maintenance so the stone surfaces don't lose their sheen.
There are different factors that can contribute to the deterioration of marble surfaces. When a marble surface has become opaque, like the one in the before picture, it means they have lost their honed and polished finish and need a protective treatment.
To get this vanity's shiny look back, we started by masking all areas that needed protection. Once that was done, we proceeded to hone the marble surface to remove any damage and to achieve a smooth finish. After the area was perfectly honed, we proceeded to polish the stone. To accomplish the glossy finish that you see in the after picture, we used a stone-safe polishing product and buffing tools. After each step, we used a wet vacuum to remove all residue. When the polishing was done, we proceeded to seal the area with Stone Armor. This is our proprietary stone sealant, which helps preserve the surface's appearance.
When we showed our client the result, she was extremely happy that her vanity had recovered its original sheen, but more importantly, that her bathroom now looked as luxurious as it used to. She couldn't believe how something as simple as a shiny finish could make such a big difference in any area of the house.
We explained to the homeowner that she needed to wait at least 4 hours before placing anything on the vanity. We also gave her some recommendations to maximize the shiny life of the marble top, explaining how she always needed to use a natural stone cleaner, such as the one
Stonecare PRO Signature line
features. They also carry polishes and cleaners to get read of mildew and soap scum designed especially for stone care. Additionally, we recommended for her to use a tray or container to place any beauty products she might need to keep on the vanity, so that any substance residue won't fall on the surface. Most beauty and hygiene products are not pH neutral, and as such, they will eventually damage the surface, breaking the protective layer and reaching the stone.
If you are looking for stone honing and polishing services in Newton Center and the surrounding area, give us a call at
(781) 899-0388
or fill out the "Request a Quote" form on this page to set up a date for a free evaluation. If you want to follow our work and keep up to date with our promotions, find us on
Facebook as Sir Grout of Greater Boston
, follow us on
Twitter @SGGreaterBoston
and on
Instagram @SirGrout
. You can also subscribe to our
newsletter
to receive first-hand our latest news.