This Bathroom Went from Dingy to Perfectly Clean with Our Grout Recoloring Service in Arlington, MA
November 30, 2017
Mosaic tiles are beautiful. They look intricate and smaller than other tiles, but they can be difficult to clean. The grout between mosaic tiles often gets discolored or dirty because they require more work to clean than regular-sized tiles. Not every homeowner is patient enough to take good care of these tiles and their grout, which means that they eventually will need the help of experienced hard surface technicians who have the equipment and skills to reach the spots that regular cleaning can't get. Our client did not have the time or skills to go through the tedious process of hand-cleaning the grout on her mosaic tiles. She had just bought her first home, which was in very good condition except for the dingy grout in her bathroom. She was so excited about owning her first home that she wanted to make it perfect, so she decided to have experts restore her bathroom's grout.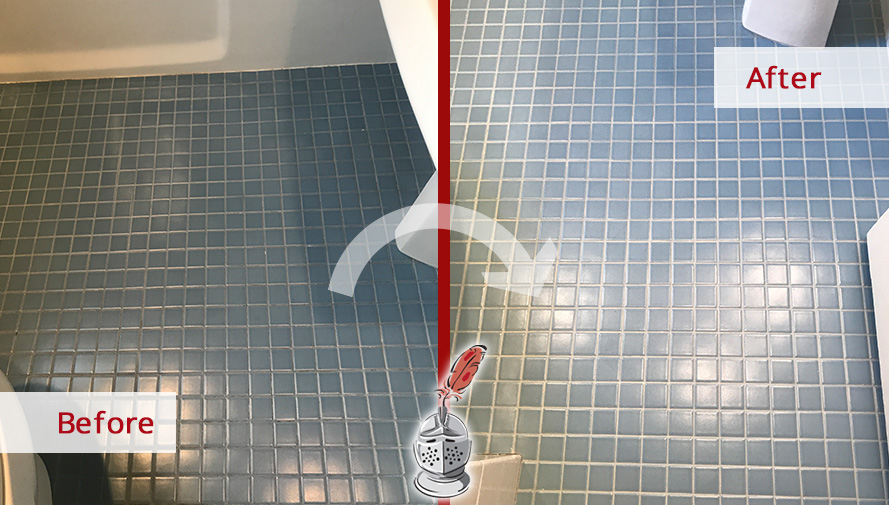 She searched online for the company that offered the best
grout recoloring in Arlington
, MA. She came across our website and was immediately convinced by the great reviews we have received for our hard surface restoration procedures. She filled out the form to request a free, in-home consultation, and a date for the assessment was set. On the day of the consultation, we evaluated the state of the grout. There were no chips or cracks. Overall, the grout was in good condition. It was just discolored, which not only dulled the grout, but also the tiles. We noticed that most of the damage had likely been caused by using the wrong type of cleaners. The previous owners might have used acidic cleaners that discolored the grout. Our technicians decided that a grout recoloring procedure was the best option, and they got down to work.
More often than not, grout is cement-based. The cement and sand in grout are porous. Therefore, grout tends to absorb moisture and collect grime. Our grout recoloring procedure uses epoxy compounds, which makes grout waterproof. The first step our experts took was to clean the floor thoroughly. To do this, our technicians used a high-speed scrubber, which strips off deep-seated grime very quickly and efficiently. Our technicians also used a vapor steam cleaner to disinfect the floor. The high temperature of the steam removes any buildup and kills bacteria. The grout was then ready to be recolored with ColorSeal, our proprietary product. ColorSeal perfectly seals the grout to protect it from grime buildup, stains, moisture, mold, and mildew. This epoxy sealer has a plastic-like finish, which makes routine cleaning easier. Our grout sealing service also includes grout recoloring because ColorSeal can be tinted in any color that the client prefers.
Our results exceeded the client's expectations. She was delighted to see that her bathroom was cleaner than ever. She could not believe how big of a difference the grout recoloring had made. She told us that the best part of our service was that her routine cleaning would be easier.
Before leaving, we gave her some recommendations on how to avoid the damage that certain cleaners and cleaning routines can cause. Our technicians told her that the most important thing to keep in mind was the type of cleaner she uses. Highly acidic cleaners can progressively eat away at grout, so they should be saved for occasional deep cleanings—but only in the correct dilution. Her best bet was to go with a gentle cleaner that is not too soapy to avoid soap buildup. They also advised her to use two different buckets for her regular cleaning routine: One for the cleaning solution, and another for clean water to rinse the mop with. This will avoid spreading dirty water all over the floor. It's also advisable to dry the floor with a dry mop instead of allowing it to air-dry. With these simple tips, our client will enjoy a pristine bathroom for many more years.
A professional grout recoloring service is a worthwhile investment. Trust Sir Grout of Greater Boston's experienced technicians, excellent products, and wide range of procedures such as cleaning, regrouting, polishing, honing, among others. From tile to natural stone, we can make any surface look as good as new with our restoration services. Call
(781) 899-0388
or fill out the form on this website for a free, in-home consultation. Find us on
Facebook (Sir Grout of Greater Boston)
, and follow us on
Twitter (@SGGreaterBoston)
, and
Instagram (@sirgrout)
. Don't forget to subscribe to our
newsletter
!