Sir Grout Boston Disinfects and Sanitizes Braintree Fire Department
Sir Grout's New Disinfection and Microbial SHIELD Service Helps Local Communities Stay Protected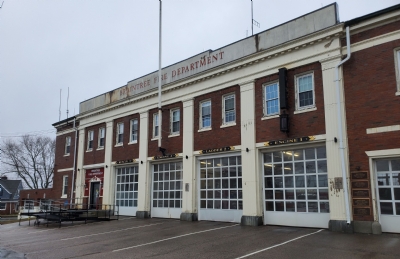 Boston, MA – (04/10/2020 7:00 AM EST) – Due to the current COVID-19 pandemic, Sir Grout, a leading hard surface restoration company with locations across the U.S., has partnered with Germinator Mobile Sanitizing, a top sanitization and disinfection specialist in the country, to help homes and businesses protect themselves from germs, viruses, and bacteria. As such, Sir Grout is now offering a Disinfection and Microbial SHIELD service at select locations within the United States.
Sir Grout Boston, one of the Sir Grout locations to offer this new unique service, recently gave back to the community by providing it for FREE to the three Braintree Fire Department locations. Chris Wyand, owner of Sir Grout Boston, said, "We know how hard it is for our first responders to stay safe during these troubling times and we wanted to do something to show our appreciation for the services they provide on the frontlines. That's why we chose to bring our new sanitizing and disinfecting services to them. It's stressful enough to be out there doing their jobs under normal circumstances. The Covid-19 crisis just adds to that. The least we can do to show our appreciation is to try and keep our firefighters safe."
Sir Grout has a history of being mindful of safety and health. "One of the reasons I became a Sir Grout franchise owner is because the company has built a strong, positive reputation as a company that has always put health and safety first. Sir Grout's new partnership with Germinator Mobile Sanitizing allows us to carry on those standards and to offer even greater services to our customers and local community.", added Wyand.
Sir Grout Boston, along with Boston Stone Restoration, used an electrostatic fogger to first disinfect and then followed it up with an electrostatic fogging of the Germinator's long-lasting SHIELD solution to create a surface that inhibits the growth of bacteria, algae, fungi (mold & mildew) and yeast for up to 90 days.
The Braintree Fire Department posted on their Instagram page stating, "On behalf of Chief O'Brien and the members of Braintree Fire Department we are so very thankful and would like to recognize Chris from Sir Grout and Paul from Boston Stone Restoration and their crews for the disinfectant and anti microbial treatments today at all of our stations. This along with the daily aggressive cleaning from firefighters helps to keep us safe while in between calls."
"These are frightening times we're living in," said Chris Wyand. Sir Grout Boston is always doing its part to help which is why its technicians always follow social distancing guidelines, wear protective gear, and respect its customers safety.
Sir Grout Boston's contribution to the Braintree Fire Department has been praised widely on social media outlets, including Facebook and Instagram (as shown above). Mr. Wyand has stated that he appreciates the accolades but feels his company is only doing its part to stand with the community and first responders during these difficult times.
To learn more about Sir Grout or how to take advantage of the new disinfecting and sanitizing services offered by Sir Grout, call
(781) 899-0388
.