This Grubby Granite Shower Looks Impeccable After a Stone Polishing Service in Lexington, MA
October 27, 2016
Granite is a great choice for showers, especially because of its undeniable beauty, unique patterns, and durability. Each granite piece is one-of-a-kind and can add that lavish look to any space, which is why this homeowner chose this natural stone for the walls of his master shower. It was definitely one of the most luxurious features of his home, until it started to slowly become more and more grubby and messy, losing its former beauty. He knew he needed to act fast if he wanted to prevent a full renovation. So, he went online and searched for
Lexington stone polishing
services. He saw Sir Grout of Greater Boston in the top results and browsed the website. After seeing the before and after pictures of other natural stone surfaces that had been restored, he called us and scheduled a free inspection for the nearest date.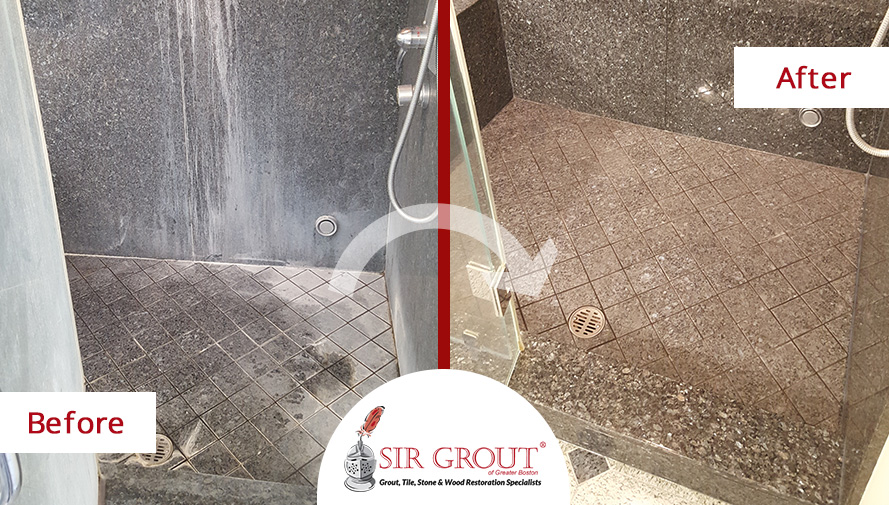 Upon arriving to the Lexington home, our trained specialists instantly saw that the mineral deposits and soap-scum buildup were all over the shower. This was a consequence of exposure to hard water. Furthermore, the granite had lost its previous shine due to the effects of acidic cleaning products the homeowner had used to try to get rid of the awful soap film. The team listened to the homeowner's concerns and devised a plan of action that involved thoroughly cleaning the shower. They would also apply a polishing compound to the granite walls, floor tiles, and glass door to remove all the mineral deposits and soap-scum buildup.
When hard water evaporates, it leaves behind mineral deposits that trap soap residue, creating soap-scum – a scaly, white film that is a combination of soap and minerals. This residue builds up, giving the shower an unsightly appearance. Unfortunately, mineral deposits and soap-scum can become almost impossible to remove with regular cleaning products, and this leads homeowners to use abrasive or acidic cleaners that can deteriorate stone and grout. Thankfully, this homeowner was able to contact us before the problem became worse.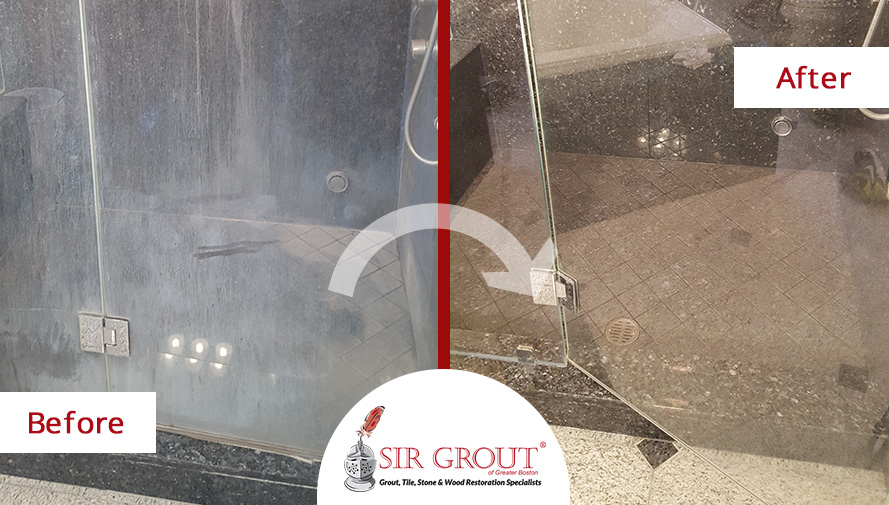 To completely restore the shower, the team started out by scraping the film and performing a deep cleaning process with vapor steam cleaning to melt away the remaining soap-scum. Our team then applied a polishing compound all over the granite walls, the glass door, and the floor. This not only removed the remaining residue from the soap-scum and mineral deposits, but also gave the granite walls a lovely glow. In just a matter of hours, the team was able to completely renew the shower's appearance.
The team's efforts paid off beautifully – the shower looked like new! The granite looked like it had just been installed, and the shower doors were crystal clear. The homeowner was blown away by the transformation. He was immensely satisfied with the overall results and said he would gladly recommend our services.
At Sir Grout, we believe it is our duty to educate homeowners on how to properly care for their surfaces. So before our specialists left, they recommended the homeowner to use pH-neutral products, which would not harm the stone walls. They also advised him to switch to body wash to prevent soap-scum from building up again.
Do you have a shower that looks like the one above? You might be in need of a professional cleaning and polishing service to bring it back to life. If you live in Lexington or surrounding areas, don't hesitate to give us a call at
(781) 899-0388
. Our team of hard surface restoration specialists will gladly help you and give you a free evaluation. If you want more helpful tips on how to care for your hard surfaces, don't forget to subscribe to our
newsletter
. You can also find us on
Facebook at Sir Grout of Greater Boston
, and follow us on
Twitter @SGGreaterBoston
and
Instagram @SirGrout
.