This Beautiful Braided Marble Bathroom Was Revived with a Grout Sealing Service in Watertown, MA
July 20, 2016
If you want a clean, classic look for your bathroom, then marble is definitely the way to go. If you also want to add a special touch to your floor, then a beautiful pattern like the one in the picture below will surely make your floor look unique. The small, dog bone-shaped tiles with tiny black squares resemble a basket weave pattern, which made this homeowner's bathroom look fancy and spacious. However, small tiles have a significant drawback – smaller tiles mean more grout lines, which are notoriously difficult to keep clean. The grout lines on this bathroom floor had gone from white to brown very quickly, making the rest of the floor look anything but clean.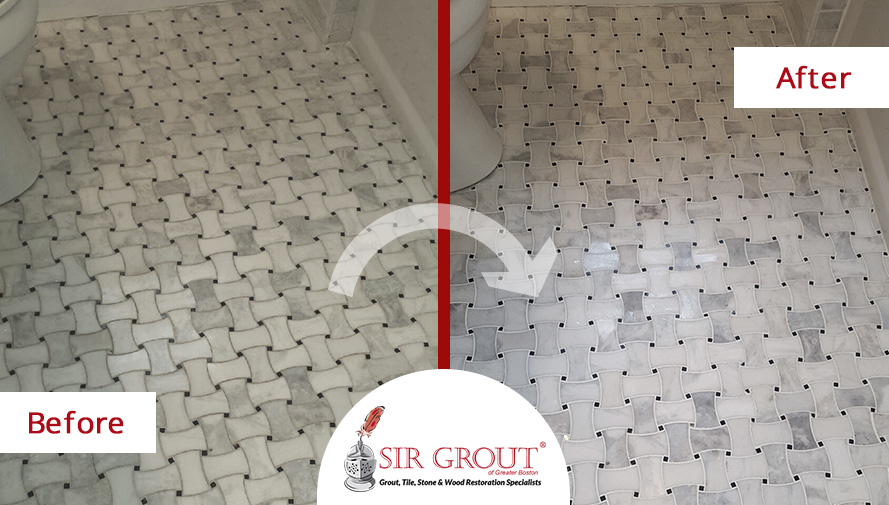 The homeowner became increasingly worried about the state of her bathroom when she also noticed that the joints in her shower were falling apart. She knew that she needed to act fast to prevent an expensive remodeling job, so she asked her neighbors if they knew a reliable company that could fix her bathroom. By good fortune, one of her neighbors had recently hired Sir Grout of Greater Boston for a local
Watertown grout sealing
service and was very pleased with the results. She told her to give us a call so we could inspect the bathroom and see what could be done.
Whether you use marble in your bathroom, kitchen, or any other area in your home, as it ages, so does grout. Since grout is porous, it can become dark and stained when it absorbs dirt. As our customer had come to realize, even the best cleaning efforts can't make the grout lines go back to their original color. This situation takes place gradually, and most homeowners don't notice it until the grout lines look awfully dirty, like the ones in the picture above. After our team inspected the bathroom, they decided that a comprehensive grout cleaning and recoloring service was the best solution to make the floor look clean and bright again. Furthermore, they suggested to seal the braided marble floor as a preventative measure. They also told the homeowner that the joints in her shower could be restored by applying a silicone sealant. She agreed with their plan of action and was looking forward to the day of the job.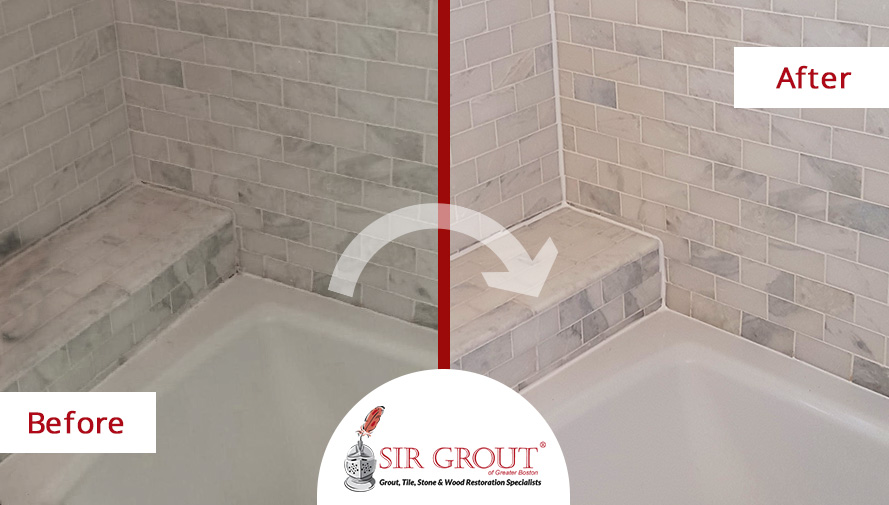 Our specialists had an extensive job ahead of them, but they knew that the results would be amazing. They started with the bathroom floor by using a combination of a pH-neutral cleaner with vapor steam cleaning to remove the dirt and grime from the surface and grout lines. Then, the floor was buffed dry to prepare it for a ColorSeal application. The team applied a bright white color to the grout lines and used a clear sealant over the entire floor to protect it from dirt and stains, making it easier to maintain. Now that the floor looked impeccable, the team moved on to the shower. The joints were replaced with a pure silicone sealant to properly protect the homeowner's shower from moisture absorption and mold & mildew growth.
Once our team was satisfied with the results, they showed the homeowner the final outcome. She was shocked – the marble floor and grout lines looked as good as new. She was also pleased to see that the shower joints were repaired, which meant that she wouldn't have to worry about water damage anymore. It was great to hear that she would recommend our services to family and friends.
As a preventative measure, it is important to have your grout sealed when it's installed, especially in bathrooms where there is heavy foot traffic. Our proprietary ColorSeal process not only seals and protects grout from stains, water, mold, and mildew, but also recolors grout, making floors look bright and refreshed.
If your grout lines are starting to become stained or dirty, they might benefit from a professional grout cleaning and recoloring service. Get in touch with our specialists by calling
(781) 899-0388
or fill out the form below. Remember to like our page on
Facebook at Sir Grout of Greater Boston
, and follow us on
Twitter @SGGreaterBoston
and
Instagram @SirGrout
. Don't forget to subscribe to our
newsletter
for more information about our services.