These Bathroom Tiles Have an Impeccable Aspect as a Result of a Deep Cleaning Service in Watertown, MA
July 06, 2017
Finding repairs to be done in a home you are just moving into can be annoying. As soon as our client walked into this place, she urgently saw the need for a professional cleaning service for the shower, which was seriously deteriorated. There was no way she could put off this repair, otherwise, a more expensive procedure, like retiling, would have had to be done. Committed to avoiding an even larger expenditure, this client started asking around for a company that provided
tile cleaning services in Watertown, MA.
For this client, finding us was easy, since one of her new neighbors had previously used our services for hard surfaces in several rooms of her house, and highly recommended us. We were promptly called and we arranged a free in-home consultation.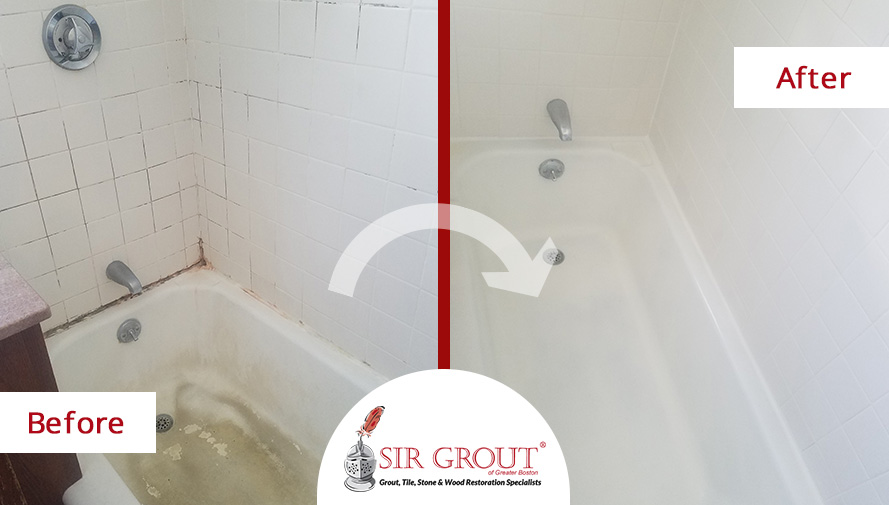 On the day of the consultation, our client was eager to get the results of our assessment, as well as the solutions we would offer, to improve the conditions of her shower. We verified that the overall state of the tiles, the grout, and the caulk, were awful; the tiles and grout were filled with grime, mold, and mildew. The caulk between the tiles and the bathtub was broken down and dirty, and the bathtub was stained with horrible soap scum. The bathtub especially called for a creative solution, since the traditional methods would probably not be enough to get rid of the stains. To fix these issues, the experts strongly advised our client to get a deep cleaning service before the shower deteriorated further. She agreed and instructed us to start working as soon as possible.
The first procedure we worked on was deep cleaning for the dirty tiles and grout. This was done with a high-speed scrubbing machine and a neutral cleaner. The second procedure was ColorSealing, which was done on grout lines and on the caulk between the tiles and the bathtub. ColorSeal is our exclusive product with which we seal grout and caulk to make them waterproof, stainproof, mold and mildew-resistant. Its epoxy compounds are highly durable and easy to clean. Clearly, this is the best choice for anyone who wants to keep their grout in excellent condition for a long time.
The bathtub, however, turned out to need a very special procedure; it had to be honed with a diamond disc, instead of a diamond pad, to get rid of the deep-seated soap scum successfully. This is not usual, since traditional methods could be too abrasive, but our experts have mastered the technique completely and know when it is necessary and applicable. They did a previous evaluation and determined that the hardness of a diamond disc would be necessary to expose the clean surface of the tub.
As promised, at the end of our visit we gave our client some care tips to avoid the most noticeable problem her shower was facing, soap scum. Before we recommended anything, it is important to understand how this chalky film forms—it is the combination of soap and the minerals found in water. It is hard to scrub away because of the said minerals. Some bathrooms accumulate more soap scum than others; this usually depends on the concentration of minerals (magnesium, calcium, and sulfates) found in the water. Water with high concentrations of minerals is called hard water.
To limit this reaction that happens between soap residue and hard water, we advised our client to change her choice of body soap from bar to gel (bars contain talc, which facilitates the formation of the chalky residues), use dish soap to clean the bathtub, and clean frequently, until all the leftover soap completely disappears down the drain.
The transformation of this shower was amazing. It looked like a completely different shower! Our client was grateful and appreciative of what she considered to be a highly professional and timely work done by our helpful technicians.
If you want to clean and completely transform your shower like this one, our hard surface restoration experts can help and you won't have to deal with the headache of extensive repairs. You can give us a call at
(781) 899-0388
and fill in the form for a free in-home consultation. Do not forget to follow us on our social media sites:
Facebook (Sir Grout of Greater Boston)
,
Twitter (@SGGreaterBoston)
, and
Instagram (@SirGrout)
, and subscribe to our
newsletter
to get valuable information about the features of hard surfaces and our services.