Stone Honing Restores Boston Customer's Bathroom Floor to Its Original Beauty
July 27, 2015
Julie O'Malley loved her master bathroom. Her beautiful Boston home featured a newly refinished bathroom that she immediately decided was going to be the reason for closing on the house. Boston's old architecture combined with a refurbished, remodeled bathroom finished with a beautiful beige stone tiled floor, all in one house? That was too much of a gem to pass up. As the years went on, Julie started noticing that the beige floor was slowly changing color. Instead of light beige, the stone seemed to be yellowing, while the grout lines between the stone tiles were darkening, dulling and cracking. Julie's favorite spot for getting ready every morning needed a facelift, pronto! Julie went to the local hardware store, and bought harsh chemicals and scrubs to try to get that discoloration out of her beautiful bathroom floor.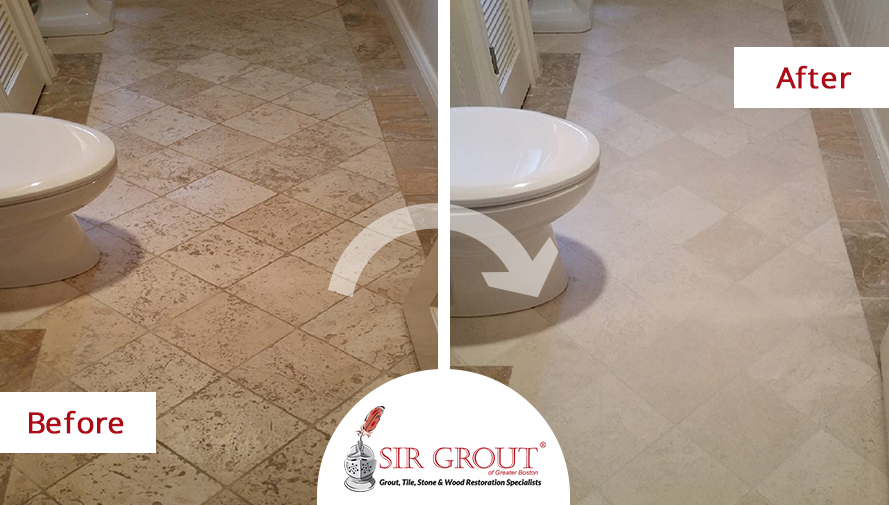 She tried cleaning and scrubbing her floor, but her efforts seemed to be futile -- the discoloration on the stone and grout was not budging. After several tries, Julie decided that this cleaning project was no match for her, and decided to enlist the help of professionals. She searched for
Boston stone honing
and polishing services, and found Sir Grout of Greater Boston. After researching Sir Grout's expertise and positive reviews, she called Sir Grout of Greater Boston to ask about how Sir Grout's stone honing services can help her get her favorite bathroom back to the way it was before.
Unbeknownst to Julie, the harsh chemicals and cleaning products she was using to clean and polish her bathroom tiles and grout could have actually been damaging the stone floor further. Most stone is porous -- dirt, grime and excessive moisture from heavy shower and bath use can seep into stone and stay there, discoloring the surface. Likewise, friction from foot traffic tracking Boston's outside dirt into her bathroom can also rub against the stone surface, further damaging and discoloring it. The same dirt and moisture damaging the stone can also damage the grout lines between the stone. As grout ages, it discolors from the dirt, grime and moisture. The perpetual moisture and drying cycle eventually dries out even the toughest grout, leading to cracking. To get her bathroom floor back to its beautiful, newly-remodeled state, Julie made the right choice by contracting Sir Grout of Greater Boston -- Sir Grout had years of experience and the proper tools to restore Julie's bathroom floor to what it looked like when she moved in, and perhaps even better!
On the day Julie O'Malley scheduled the service, Sir Grout's trained, professional stone honing and polishing team assessed the state of Julie's bathroom floor, and determined that stone honing and grout recoloring was the best way to go to restore her bathroom floor. Getting to work immediately, the team used a proprietary process involving chemicals and polishing or buffering tools to polish the stone and get rid of the discolored layer. To treat the aging, discolored grout, the team utilized beige ColorSeal to match the grout color to the color of the stone. ColorSeal is a tinted sealer that serves to fill dirt-trapping pores on grout lines, providing a water-resistant layer that protects grout. Developed by grout professionals, Sir Grout turns to ColorSeal for grout recoloring jobs of various size and scope, and considers it one of the best sealers on the market.
"Wow!" Julie could not believe her eyes when she finally saw the competed floor! "This floor looks better than it did when I moved in! How did you guys do this?" She was thrilled at the result.
For a professional honing and polishing done right the first time, every time, turn to the Boston area stone honing and grout recoloring experts -- Sir Grout of Greater Boston. Fill out the form below to contact Sir Grout for a free evaluation today!