See How This Aged Tile Floor in Arlington, MA was Revived with a Grout Recoloring and Sealing Service
July 25, 2016
This homeowner from Arlington, MA cleaned his floor frequently, but he started to notice that it looked different, and not in a good way. He quickly realized that his floors looked old, worn, and aged because of the dirty grout lines surrounding the tiles. He was in need of a solution that could bring back the bright and clean look of his floor, but he didn't know where to start looking. Luckily, one of his friends shared a Sir Grout of Greater Boston post on Facebook about one of our most recent jobs. He visited our website and was pleased to see that we offered a local
Arlington grout recoloring
service. Once he read the testimonials from other homeowners and saw our most recent jobs, he was certain that we could revive his tile floor.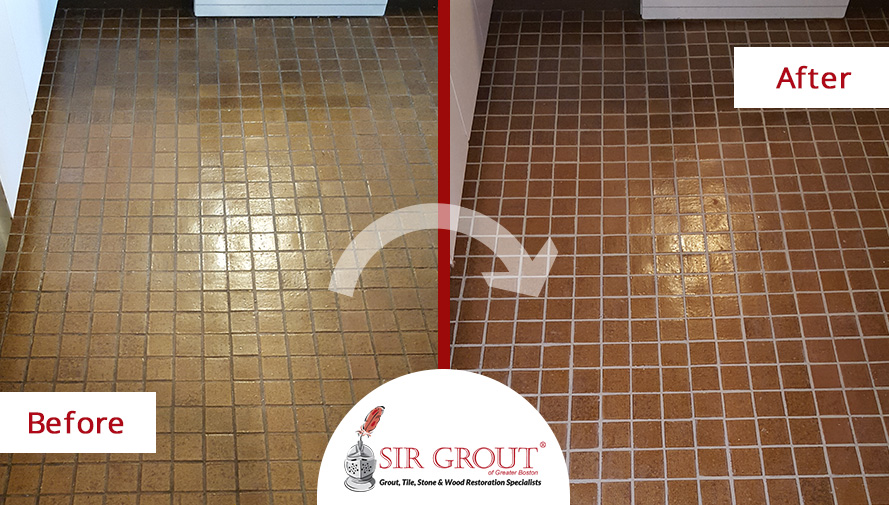 While tile floors are very easy to keep clean, grout is not. This is due to the fact that grout is made with cement, which makes it porous. This, in turn, allows dirt and stains to settle into the grout's tiny pores. The worst part is that even when the tiles are clean, they will lose their appeal if they are surrounded by dirty or discolored grout lines. This can be caused by using cleaners that have acidic components that degrade and discolor grout, using cleaners with soap – leaving a film behind that easily traps dirt – and high foot-traffic.
The homeowner had used every cleaning trick and tip he had heard of, but the grout lines did not improve. After the team arrived and met the homeowner, they proceeded to examine the tile floor to find the best solution. The small tiles made the room look more spacious. However, since they were small, there were more grout lines that needed to be cleaned, and this took up a lot of our customer's time. The homeowner asked if there was any way that his grout lines could look like new again, and the team told him that he didn't need to worry, since they relied on ColorSeal. His hopes were high, and the team was ready to perform another amazing service.
To start the job, the team started by making sure that the tiles looked spotless. They used a combination of a neutral, soap-less cleaner with a state-of-the-art scrubbing machine to make the tile and grout look as clean as possible. This would remove the dirt from the surface. In order to remove the dirt buildup that was trapped in the grout lines, they used vapor steam cleaning. At this point, the floor already looked a million times better, but it still needed one final touch. Our expert team applied ColorSeal to recolor and make the grout lines impervious to stains and water, which would make cleaning effortless and quick for the homeowner. It was perfect for his floors since it made the grout look like new – just like he wanted!
They were excited to show the homeowner the results. The raised grout joints and the high amount of dirt had made the job a challenge, but the team worked hard and the floor now looked brand-new. The homeowner was delighted when he saw the floor, and he was grateful for the team's hard work. They were happy to have performed another flawless service.
Since prevention is the best cure, we recommend that you seal the grout as soon as it's installed. At Sir Grout of Greater Boston, grout is our specialty, and we rely on ColorSeal not only to protect but also recolor grout lines and give them a uniform color. It's a long lasting value solution for homeowners who want to keep their grout lines looking fresh.
If your tile floors look old due to filthy grout lines, it probably needs a tile cleaning and grout recoloring service that can recover its bright and clean look. You can contact us by filling out the form below or calling
(781) 899-0388
. For more tips on how to take care of your hard surfaces, follow us on
Twitter @SGGreaterBoston
and
Instagram @SirGrout
, and like our page on
Facebook at Sir Grout of Greater Boston
. You can also subscribe to our
newsletter
.