See how a Grout Cleaning Service Worked Wonders Restoring this Beautiful Travertine Floor in Newton, MA
May 31, 2017
There is nothing more beautiful than a big home filled with a loving family. However, the constant and excessive foot traffic can wear down even the most durable of stone floors. Such was the case of this client's beautiful travertine kitchen floor. She had a love for rustic home décor and she had always dreamt of having a stone floor. One of the few drawbacks of a full house and a stone floor is how soiled, dirty, and worn-out the floor becomes over time, that even a thorough cleaning isn't enough. Not wanting to see her floor completely destroyed and unrepairable, she decided to look for a local
Newton grout cleaning
service to restore it before it was too late.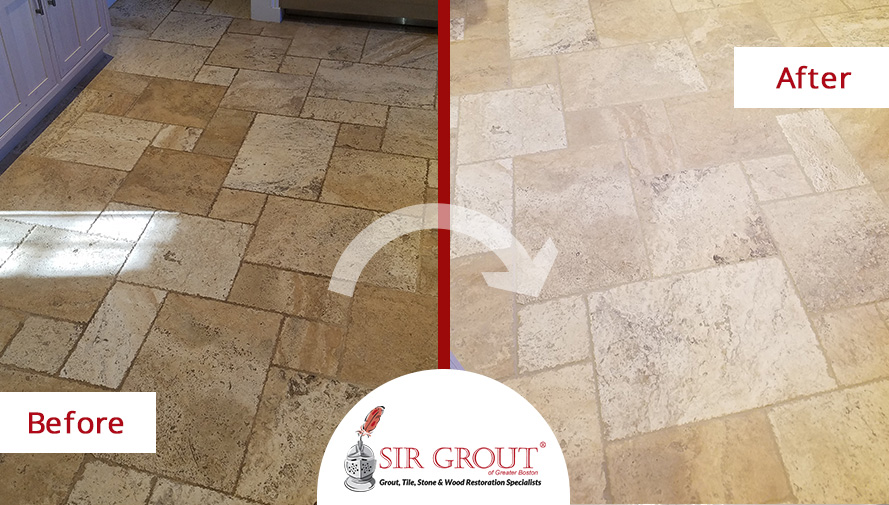 Knowing she needed to find a reputable company or risk ruining her kitchen floor for good, she took her time researching local hard surface restoration experts to find one who was reliable and efficient, with a reputation to back that up. She soon found Sir Grout of Greater Boston's website and after meticulously going through their testimonials and some before-and-after samples, she decided to give us a call to sign up for a free in-home evaluation.
Our team of technicians arrived on the scheduled day to assess the state of the travertine floor and offer the best options to bring it back to life. After inspecting the floor, they took notice of the darkened grout and the dirty, dulled travertine, and offered Sir Grout of Greater Boston's flagship grout cleaning service to reverse the effects of heavy foot traffic. The client agreed, hoping for the best.
A few days later our crew of technicians went out to our client's residence to get to work. The first thing we did was apply our own soap-less and pH balanced cleaner, and rinse all traces of dirt with a high-speed but gentle scrubber. To reach the most difficult spaces and ensure all grime was gone, out techs used a steam cleaner. With the cleaning done, our techs then proceeded to apply our signature ColorSeal, a water-based sealant that helps even the color of grout lines and makes them stain-, water-, mold-, and mildew-resistant. They finished the job by sealing the stone tiles to offer better protection against possible wear-down.
Once the floor was ready, our team showcased the results to our client and her whole family. When she saw how clean and refreshed the travertine looked, and how the grout made the stone stand out, she smiled from ear to ear. She thanked the team and hired them again on the spot for some other home improvements she wanted to have done. In fact, she even sent the crew at Sir Grout of Greater Boston an email to let them know of her satisfaction with the service:
"An awesome experience! The team at Sir Grout were professional from the first call. They were prompt, honest, knowledgeable, helpful, and all the related synonyms. The quality of work performed was excellent. The price was very fair and the team that came to our home was just a pleasure. Will be having them back to clean and seal the granite countertops. Thank you for a job well done! A very happy customer!"
If you are having trouble making your kitchen floor look what they used to, we at Sir Grout of Greater Boston have the products and expertise you need to achieve the look you want. Contact us at
(781) 899-0388
or fill out the "Request a Quote" form to sign up for a free evaluation, and if you want more tips and stories on hard surfaces care, follow us on
Facebook at Sir Grout of Greater Boston
, on
Twitter at @SGGreaterBoston
and on
Instagram @SirGrout
.