Our Team of Tile and Grout Cleaners in Weston, MA Can Help You Say Goodbye to Your Dingy Shower
January 03, 2018
Moving into a new place is exciting and challenging, especially if it is the first time you're living alone. It is no secret that condos can be expensive, which is why many young professionals look for creative ways to gather the money they need to afford living in one. That was what this young man was trying to do. He had devised a clever plan that would allow him to cover his expenses: renting out a spare bedroom that had a full bathroom. The only problem was that the shower needed to be touched up before the room could be advertised for rent—nothing our team of
Weston tile and grout cleaners
could not fix.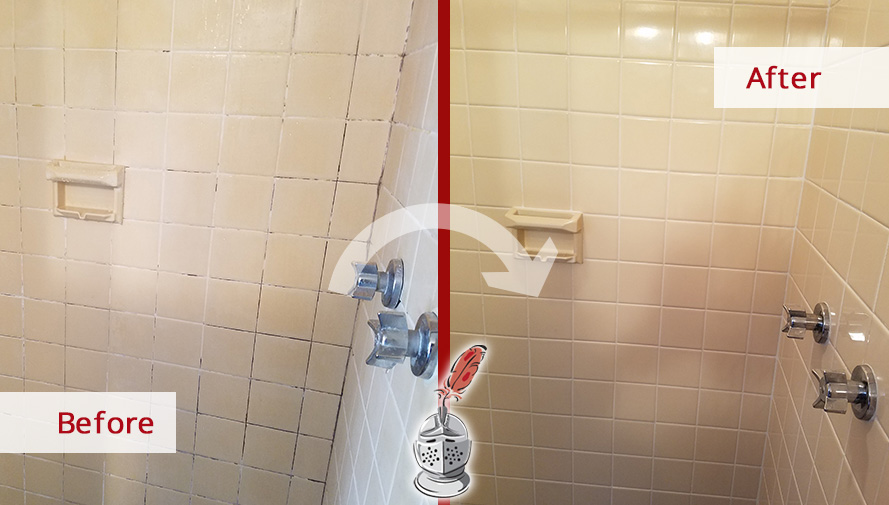 The Client's Story
This young man was about to live on his own for the first time. He found a job opportunity in Greater Boston, so he immediately thought about his options. His family had a two-bedroom condo in Weston, MA where he could live. However, his budget was a little tight, so he decided to rent out the spare room in his family's condo. The only drawback to his plan was that the shower walls in the room was in bad shape and needed professional help—it was dingy and dull with stained, chipped, and crumbling grout lines.
Looking for the right Weston tile and grout cleaners
Our soon-to-be customer went online and typed "tile and grout cleaners in Weston, MA" into his web browser. The results? As soon as he pressed enter, a whole bunch of search results appeared on the screen. To narrow the results, the man decided to click on the suggested image displayed on the right side of his screen, which directed him to our website. He browsed our site, and after reading some testimonials, he decided to schedule a free, in-home consultation. He wanted to learn more about what needed to be done to restore the shower. After all, it was free.
Our Team's Assessment
On the day of the appointment, our team of Weston tile and grout cleaners arrived at the client's home. The man was still a little skeptical when he led us into the bathroom. Our professionals examined the surface and identified the causes of the damage. Also, they came up with a plan to restore the surface to its original appearance. They told the man that the shower had been subjected to an incorrect cleaning routine and high levels of moisture, which meant that our team would need to do a deep cleaning. They also said that our re-grouting service would be ideal to preserve the surface.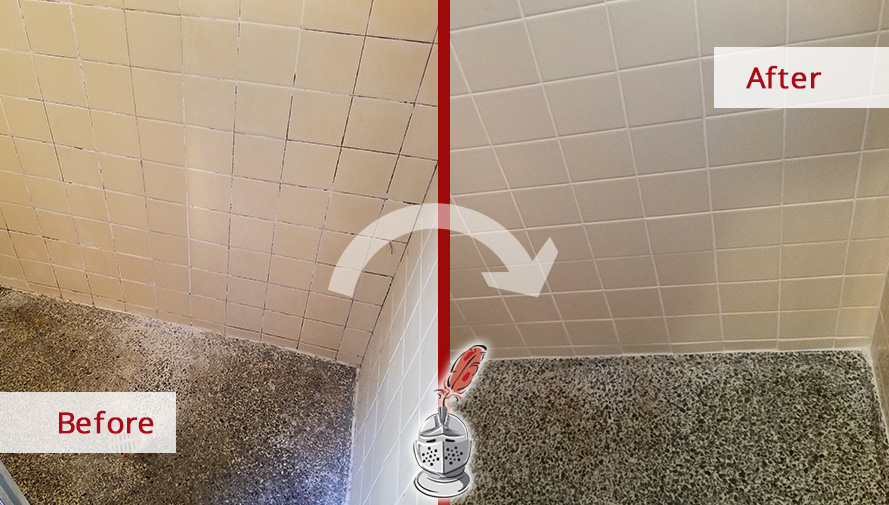 Consequences of Incorrect Maintenance
The best way to restore a surface is to prevent it from getting damaged in the first place. It is better to follow a proper maintenance routine than to remodel because of damage. The most evident sign of deterioration in this shower was in its grout lines. They had a severe case of grime accumulation. This had happened because the owner had used incorrect cleaners and cleaning techniques when trying to remove dirt. The shower tiles had been cleaned with soap-based products that had made the surface sticky. Soapy cleaners often don't remove dirt. On the contrary, they leave a film that actually attracts more dirt.
Another common mistake when cleaning showers is the use of acids. Acidic solutions can discolor and weaken your grout lines. While it is true that professionals sometimes need to apply acids to your surfaces, they are trained on how to do it correctly. It is best to let experts do this for you. Additionally, trying to find a solution on your own could result in a huge bill and uncomfortable remodels and replacements.
Ceramic Tiles
We have all seen how functional and decorative tiles can be—not to mention their lengthy lifespan. They come in any color and design you want, they are a lot easier to clean than painted walls, and you save gallons and gallons of paint. Also, you can adapt them to your particular needs. So far, it might seem like tiles are the perfect choice when remodeling your house. Unfortunately, they have a major downside: grout lines.
Grout and Moisture
When installing a tile surface, grout is used to fill in the spaces between your tiles. The problem is that sanded grout is highly porous, which can allow liquids and dirt to permeate its surface and get under the tiles, causing water damage.
Now, imagine that this porous material is used in a place that is constantly exposed to moisture like a shower… Your surface could suffer water damage and even tile detachment if it is not properly maintained. You might have to spend a great deal of money to replace the surface. The best way to prevent this from happening is to seal the grout lines right after they are installed.
Our Restoration Procedure
A few days later, our team returned to our client's condo ready to help him rejuvenate his shower's appearance.
Cleaning
First, our team combined the right cleaning products and a high-speed scrubber to remove all the grime that had accumulated on the grout lines. They also used vapor steam cleaning to remove the most embedded dirt along with any mold and mildew.

Re-grouting
When our Weston tile and grout cleaners evaluated the shower, they had noticed that the grout was discolored, chipped, cracked, and even crumbling in some areas. They had determined that they needed to install new grout on the surface. Our crew removed the old grout and caulk from the shower walls and applied Epoxy Grout and Epoxy Caulk.
Benefits of Epoxy Grout and Epoxy Caulk
Epoxy Grout and Epoxy Caulk are two state-of-the-art products that are used to fill in your grout lines and the expansion joints of your shower. They are one-part epoxy, they are extra tough, and they do not require sealants. Epoxy Grout and Epoxy Caulk are especially designed to protect against water and moisture. They are also resistant to stains, mold, and mildew. Plus, Epoxy Grout and Epoxy Caulk come in a wide variety of colors, which allowed our client to choose a shade that matched his tiles.
Outcome
When the job was done, and the shower had regained its former appearance, our team of Weston tile and grout cleaners showed the results to the owner. The man was very pleased with the results. He said it looked much better than when it was installed. The man thanked us with a handshake and said he would recommend our work to anyone who was experiencing a similar problem.
Maintenance and Care Tips
Before leaving, our team gave the man some recommendations on how to preserve the results and the surface. They told him it was necessary to remove excess water after using the shower. The specialists also said that it was important to ventilate the shower. Additionally, they explained the importance of using soapless, pH-neutral cleaning products.
Call to Action
If your hard surfaces are showing signs of deterioration, our Weston tile and grout cleaners are ready to help you! Call us at
(781) 899-0388
or fill out the "Request a Quote" form on this page to schedule a free evaluation. Find us on
Facebook at Sir Grout of Greater Boston
and follow us on
Twitter @SGGreaterBoston
, and
Instagram @sirgrout
.