Grout Sealing in Belmont: An Excellent, Cost-Effective Alternative to a Full Bathroom Renovation
March 31, 2017
This proud homeowner started to notice that her shower-tub enclosure was exceedingly dirty. Originally, when she bought her house, located in the City of Champions, the tiles were as white as snow and glossy. However, time had taken its toll; now, the grout lines looked dirty, even black in some areas, and the tiles had become discolored and had completely lost their sparkle. She did not understand how this could have happened; she had always thought that she took good care of her house, paying special attention to the shower and the kitchen. She lived in the suburb of Belmont, so after thoroughly searching for a solution online, she decided to hire the help of our
grout sealing professionals in Belmont
. She had found our website in the top results, and after reading about the jobs we had done, as well as some reviews, she decided to use the contact form to set up an appointment for a free evaluation.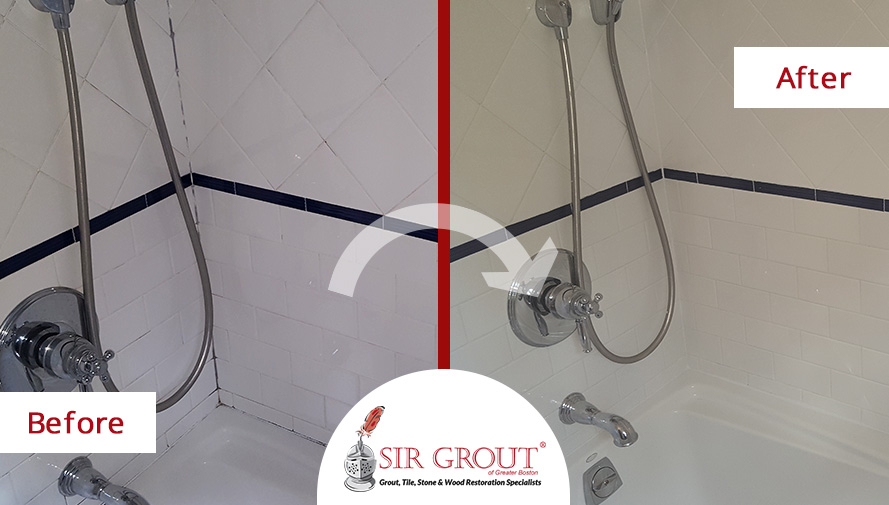 On the day of the evaluation, we noticed that the grout lines of the shower walls had mold and soap scum buildup. We explained to her that once mold or mildew has set in, it is very difficult to remove, making it impossible for the bathroom to look squeaky-clean. When this happens, a tile and grout cleaning and sealing service is in order. She was pleased with our assessment, so we agreed on a date to start the job.
To remove all the dirt from the tiles and grout, we started by applying our special tile and grout cleaner to the entire surface and then used a high-speed scrubber to get rid of all the excess grime. After that, we made some minor grout repairs and removed all the old caulk. Then, we applied Stainmaster Epoxy Grout to recaulk the enclosure and ColorSeal to recolor the grout lines and protect them from mold, mildew, dirt, and stains. We then buffed on our proprietary sealant, Tile Armor, to further protect the tile and grout from stains. This product also makes tiles more easily cleanable, and – to cap it all off – it is non-toxic and safe for all the family members, including pets.
Once we were done with the thorough restoration service, we showed our client her bathroom's new look. She was pleased with the results and with the way we carried out the job.
We gave her some recommendations so she could enjoy her spotless bathroom and keep the shower looking like new for as long as possible. First, we told her to always use pH-neutral, soapless cleaners on all tiles, letting the cleaner soak for a few minutes and then making sure to get rid of all the excess cleaner or dirty water by using a dry cloth. Since bathrooms are usually damp, we also recommended her to keep it well ventilated, as this would prevent stagnant water from fostering fungi growth. We also advised her against the use of acidic or alkaline products, as this can damage the grout and cause it to deteriorate and become stained.
If your bathrooms need a professional grout cleaning, tile cleaning, or sealing service, give us a call at
(781) 899-0388
or fill out the "Request a Quote" form on this page to set up an appointment for a free evaluation. If you want to follow our work and keep up to date with our promotions, find us on
Facebook as Sir Grout of Greater Boston
, and follow us on
Twitter @SGGreaterBoston
and
Instagram @SirGrout
. You can also subscribe to our
newsletter
to get information about promotions, offers, and more!